Maria T. Puentes, M.S., LMHC. BCST, BCCH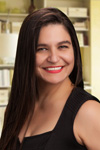 Maria completed a Masters of Science in Clinical Mental Health Counseling at Florida International University and also completed an additional graduate certification program in Behavior Analysis at Florida Atlantic University. Maria earned her Bachelors degree at FIU in Developmental Psychology Minor in Sociology with an area of intensity (AOI) in Behavior Analysis. Her specialties include: Eye Movement Desensitization and Reprocessing (EMDR), Board Certified Sex Therapist (BCST), Board Certified Clinical Hypnotherapist, Behavior Modification Therapist (BMO) and Substance Abuse Therapist.
Maria has accrued a wealth of experience working in Human Services for more than 15 years, providing services for couples/marital counseling, group and individual psychotherapy targeting sexual trauma, depression, anxiety, bipolar disorders, PTSD and the field of addiction (chemical dependency, substance abuse, recovery and relapse prevention). Maria has also worked for several years with children and youth with serious disruptive behaviors (ages 5 and up), ADHD in adults and children and adjustment disorders due to human migration.
The basics of her practice is to guide her clients to master compassion in order to develop the ability to understand their unique circumstances and experiences in new healthy ways and challenge dysfunctional perceptions and behaviors and reinforce opportunities for behavior change, emotional healing and personal growth.
Maria Puentes's confidential email
Phone: (786) 274-3549